Latest Parish News and Information

Shaugh Prior Parish Council Meeting -
The next meeting (AGM) of the Parish Council is Wednesday 4th July at 7.30pm.
at Shaugh Prior Hall. Public Welcome
Newnham Estate Notice

The following Notice has been provided from the Newnham Estate through Wolf Minerals.
"The estate has been selected to host a military exercise, the first time in the estates history as far as I know. There will be an increase in both vehicle and personnel activity. There will be a period of 'blank fire and pyrotechnics' which I believe will be on Friday 22nd and Saturday 23rd. Other than this we shouldn't be too disturbed. If you have any questions please do let me know.
Elaine Budd, Community Relations Manager - Wolf - Tel: 01752 393116

In memory of Stan Finemore
On 6th May, the Parish commemorated Stan Finemore's passing and celebrated his life with the Planting of a Pink Hawthorn Tree.
Stan was the Parish Tree Warden for many years, and is well remembered by all who came into contact with him.

He loved all wildlife and especially loved the trees, particularly the native species that support our indigenous species of insects.
The Pink Hawthorn was chosen especially as Stan liked hawthorns and of course, their common name is 'May Tree', as May is the time they cover themselves in white blossom. Stan's dear wife who died years ago, was also called May. So truly fitting that the planting of a PINK version of the hawthorn is an inspired and lasting memorial and tribute to Stan.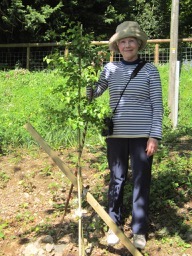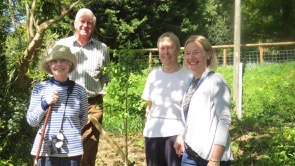 Photo on left showing the Pink Hawthorn with Stella Tracey
Photo on right shows the tree with Phil and Dot Emony - Stan's good neighbours for many years, and his other neighbour Angela Miller, also with Stella.
Local dates for diary

Lee Moor are holding the Annual Fun Day on Sat 7th July
Wotter Surgery News
The New Defibrillator at Wotter

The New Defibrillator is in place and working - On the wall of Wotter Surgery in the usual place.

The Parish Council have purchased this on behalf of the Community with helpful contributions from Wolf.
Elaine Budd from Wolf has been a great support to the community in this respect.

MOORLAND HOTEL -

Please Note : the Recycling Bottle Bank is back at the Moorland Hotel.
It's behind the big brown fence just right of the front door. The Community are very welcome to use it.

Access is available during the day but they would ask you not to use the bottle bank at night. It is noisy, and there are two big dogs roaming that area at night!

So feel free to come and use it to recycle all your glass bottles.

Devon County Council - Latest Recycling News.
here is your flash briefing from the 'Recycle Devon Campaign' sent from Devon County Council
We have been asked to circulate to Residents...as there is so much confusion...
Keep your tops on!
What do you do with lids, tops and caps? If you find yourself asking "Are they recyclable?", "Which bin do they go in?" and "Am I doing it right?" then read on.
These common questions now have a simple answer – YES! They are all recyclable! Simply give the bottle or jar a rinse, squash plastic bottles, put the top back on and recycle as you normally would – even if it's a metal lid on a glass jar.
Many people still remember the early days of recycling when plastic lids caused a problem due to being a different kind of plastic or being heavily dyed. Thankfully, technology has improved over the years and we no longer have this problem. Hurrah!
In fact, the recycling industry preference is now for lids to remain attached to bottles and jars. Lids and caps are small and light, so attaching them to larger items keeps them contained during the collection and sorting process and prevents them from jamming machinery. It also helps keep plastic bottles squashed, so reduces volume and creates more space in your recycling bin, bag or box and on the recycling collection vehicle. All in all, keeping your top on gets a big thumbs up all round and helps maintain Devon's 55.7% recycling rate.
So, what happens to plastic bottles with lids?
Plastics are shredded, cleaned and passed through a Sink-Float tank which separates different types of plastic by density. HDPE plastic, such as lids and caps, will float whereas PET plastic, such as bottles, will sink. So simple, but very effective! The different plastics are then sold on to manufacturers who turn the plastic shreds into new products, such as garden furniture, fencing, polyester clothing and even new bottles.
And glass jars?
Similarly to plastic, glass is crushed and cleaned before it passes through a process to remove any plastic or metal lids and collars. Plastic and metal is recycled into new products and glass is recycled into new bottles and jars.
All local councils in Devon will collect your plastic bottles in your usual household recycling service. Don't forget bottles from your bathroom too!
Most authorities will collect your glass bottles and jars, however for the few that don't you can take them to your local Recycling Bank or Household Waste Recycling Centre.

South Hams and West Devon Housing Survey

South Hams & West Devon Councils are keen to identify need in the area to support a development programme that will help local communities provide housing to meet their local needs. Click on the following link:
Download the Poster and complete the survey online.



The South Hams District Council and West Devon District Council
Access to On-Line Services -
Council News

From 1st April the Council will no longer accept cash or cheque payments.
But you can still pay your Council Tax by cash or cheque at a local Post Office with a Pay Point.
Click on the following Link to see how the Council is going Cashless, and the ways to pay:
Our Cashless Council



DEVON COUNTY COUNCIL
Consultation:
Shaugh Prior – Definitive Map Review - Ending 30th April 2018.


Are you interested in footpaths, bridleways & byways in Shaugh Prior parish?
Devon County Council is carrying out a review of the public rights of way in the Parish of Shaugh Prior.

Update following meeting of 7th February at Shaugh Prior Hall:

The Wildlife and Countryside Act 1981 requires the County Council to keep the Definitive Map of public rights of way under continuous review and to make modifications where it appears that routes should be added, amended or deleted. A review has now started in Shaugh Prior parish following a public parish meeting on 7 February 2018.

The map in the links below shows existing public rights of way recorded on the Definitive Map in Shaugh Prior.

Any proposals for changes or amendments to the Definitive Map of Public Rights of Way should be sent to the address below by 30 April 2018.

Contact information:

Address: Emily Spurway, Devon County Council, Public Rights of Way Section, County Hall, Topsham Road, Exeter, EX2 4QD
Email: prow@devon.gov.uk
Phone: 01392 383000

Applying for a definitive map modification order
You may wish to apply for a definitive map modification order (DMMO) if you have evidence that:
a path or way that you and others have been using as a right of way for years is not shown
a path shown with a particular description should be shown as a highway of a different description, for example where a footpath has been used for many years by horseriders and you wish to apply to have it recorded as a bridleway
there is no public right of way over land shown in the map and statement of any description, or it is in the wrong place
any other particulars in the map and statement require modification.
The evidence may be in the form of historical documents or use by the public, or both. The procedure is set out under schedule 14 of the Wildlife and Countryside Act 1981.
Before making an application you should check both the definitive map and the register of existing DMMO applications and talk to the Definitive Map Team – we may be able to tell you whether a route has already been considered through the parish-by-parish review or help you with plans.
If you still want to make an application, you should:
download the application forms and guidance notes from Devon County Council website - Public Rights of Way
gather your evidence, both documentary and from users of the route
identify all the owners and occupiers of all land to which the application relates (this includes anyone that has land next to the route in question and anyone who may have access along it) and tell them that you are making the application by giving them a completed 'Form B' – the notice to be sent to all occupiers and owners affected by the application.
Please note that DMMO applications should not be made:
where you think it would be a good idea to have a public path in a particular place
if you think that the path is not suitable for its current classification and should be changed
if you think that the path is not needed for public use.

Copy and Paste the following Links into your browser for further information.


https://new.devon.gov.uk/haveyoursay/consultations/shaugh-prior-definitive-map-review/
https://new.devon.gov.uk/prow/the-definitive-map/making-changes-to-the-definitive-map/apply-for-a-definitive-map-modification-order/
https://new.devon.gov.uk/prow/the-definitive-map/definitive-map-review/





Fly-Tipping
This has become a growing concern in the area at present.
Those caught could face up to £5,000 in fines.
Please inform South Hams District Council if you find anyone fly-tipping or if you find any pockets of fly-tipping please report it straight away.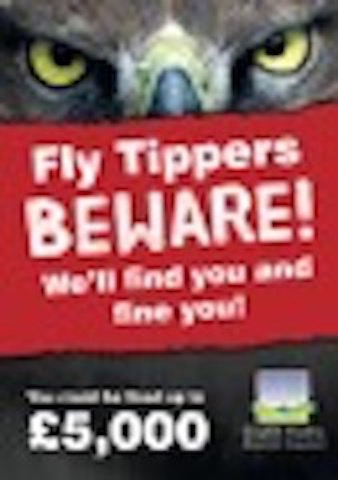 Follow the Plymouth and South West Devon Joint Local Plan Examination using the link below:
Joint Local Plan – Hearing Details -
you can now view the dates/venues for each session using the link below:
https://content.govdelivery.com/accounts/UKSWDEVON/bulletins/1d3b248
South Hams District Council and West Devon Borough Council

All about the Joint Local Plan to become one Council.......
The Plan is now at EXAMINATION stage. See Link above for dates and venues for each session.

What happens next?
Following the hearing sessions the examination will remain open until the Inspectors' report is submitted to the Councils.

The Secretary of State would have the ultimate power to decide if the new Council is to be formed and over what period Council Tax should be equalised. If the proposal is approved, a review of the number of Councillors would be commenced by the Boundary Commission to determine the exact number of Councillors for the new Council.
The earliest the new Council would be formed is April 2020 with elections to the new Council in May 2020.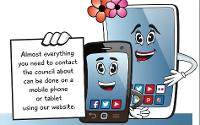 South Hams and West Devon Councils remind us all that nearly everything you need to contact the council about can be done on a mobile phone or tablet using their websites.
"Our customers can now apply for benefits, pay their council tax, even send us pictures of their key documents as evidence, all with their phones. They no longer need to scan documents in or bring them to us at the council. Just take a picture and load them onto the forms, just like they would upload a picture to Facebook or Instagram."
"We want to make it as simple as possible for our customers to be able to send us information from the devices that they use everyday.
they do not need to phone or visit the council, just go on the internet on their mobile phones or tablets and use the council's websites."
So next time you want to contact the council, don't call the council, use your phone or tablet! It will be like having the council in your pocket.

WOLF MINERALS - DRAKELANDS MINE

Latest News - MAY '18
Wolf will be again supporting the Apple Celebration Day, being organised by Shaugh Prior Recreational Hall.
It takes place 20th October 2018.
Wolf have also confirmed they would help financially with the purchase of a new defib at Wotter Surgery.
There has been a lot of concern due to the old one being temporarily out of action during the winter months.
Re-cladding of Processing Plant
Elaine Budd reports there has been much work undertaken in preparing for the re-cladding of the plant, with a new high spec acoustic cladding treatment. So the first steps begin with strengthening of the existing structure, prior to the current exterior being replaced with the new panels.
This work itself should not result in increased noise levels. Wolf will continue to monitor any impacts carefully.
History of Hemerdon Mine
The Project involving local historian Chris Robinson is still on-going and he has been overwhelmed by support he has been getting from the neighbourhood and local community. Many meetings have taken place, including talks with local Cllr John McIver about Lee Moor, and with Cllr Sue Burkill and the parishioners.
Elaine Budd
Community Relations Manager


To all Land Owners, and House Owners of land adjacent to Shaugh Common


From Shaugh Prior Commoners' Association
This is a
Reminder
that it is your Legal Responsibility to keep Moorland Livestock out of your land.
So please check and keep your boundary walls and fences in good condition, and ensure you keep all gates closed if you don?t want uninvited guests.
We are sure you all know this, but we do have occasional problems!
Thank-You!
Neighbourhood Watch - Wotter, Shaugh Prior and Lee Moor


SHAUGH PRIOR PARISH POLICE CRIME REPORT
May 2018
Scams:
Please be aware of reported scams locally..calls from India claiming to be BT informing people that their ip address has been stolen ....
by someone in California.
Do not engage with these people as BT have been informed and they confirm that this is a scam.
BT say they will always ask to speak to the account holder by name and go through security questions first.
Road Closure : At last the road below Faunstone Farm is closed for culvert repairs
The Highway Code: The rule change for motorways came into force from today, Monday 4th June.
Rule 253 has been updated to make it clear that learner drivers can now drive on the motorway with an approved driving instructor in a car with dual controls.
CRIMES: 1 (75% reduction on last month)
1. Worrying Livestock - On 27th May persons reported seeing two dogs running around Cadover, chasing sheep and lambs, and the owners of the dogs did not have them under control. A farmer has not come forward as the owner of the livestock so this matter has been filed, pending any further updates.
2. Rape – this was reported to Police in May, but actually occurred in April – it is domestic related and is under investigation by CID.
Logs of Note;
1. On 3rd May a member of the public report a safe on Brag Lane nr Shaugh Prior. I attended this location and collected a large metal safe. It had been stolen from Welbeck Manor in Sparkwell (under investigation).
2. On 5th May a driver reported a cow had 'jumped' on his vehicle, causing considerable damage and airbags to be deployed. Cow ran off and was not located – unknown if injured or not. Driver was fine but in shock.
3. On 21st May a driver reported sheep and lambs in the road that were slowing down the traffic!!!!!!
4. On 31st May a member of the public called with third hand information that several vehicles were parked at the edge of the moor playing loud music. No further details provided.
Information;
1. As the warmer weather steps up we are more inclined to leave windows open all day, leave car windows down whilst parked up - please keep vigilant with your security.
2. RSPCA advice is if it's too hot for you to walk round without shoes on then don't take your dog out on a walk either.
3. FREE CPR, 1ST Aid and Defib training at The Watermark Library on Thursday 26th July 6-7pm. Names to me please if interested.
Police contact details....
* Email: tamsyn.dingley@devonandcornwall.pnn.police.co.uk / Ivybridge@devonandcornwall.pnn.police.uk
PC 6350 TAMSYN DINGLEY