Latest Parish News and Information
Parish Defibrillators:

There are three Parish Defibrillators for medical emergencies.
Each village has one installed and they are checked and monitored regularly by our Parish Councillors.
Wotter - on the wall outside the Surgery in Wotter Village. (Next to the old Methodist Hall)
Shaugh - on the wall of the Parish Hall
Lee Moor - on the wall of the Parish Hall.
Wotter Surgery - News - February

There will be no Prescriptions issued on 18th February '19 due to Claire's absence.
So please ensure you arrange for earlier processing of prescriptions, especially if you rely on regular medication.
It is possible that this will also affect prescriptions on 21st February.

Shaugh Prior Parish Council Meeting -
The next meeting of the Parish Council is Wednesday 6th March starts at 7.30pm.
at LEE MOOR PUBLIC HALL Public Welcome
Make a Change and become a Local Councillor
If you care about where you live and are passionate about your community,

We Need You !

Have you ever wanted to have a greater say on those local issues within our Parish which have the greatest impact upon local residents?

Do you want to play an active role in helping to shape the future of your community for the better?

Well now is your chance!



Shaugh Prior Parish Council Elections are due to be held shortly, and applications are sought from those persons wishing to stand as a Parish Councillor. 


Parish Councils depend on local people taking an interest in the local issues and matters that impact upon their community, whatever their background, and local people standing as Councillors often bring a wealth of knowledge and community understanding into the local council. 

If you are interested in becoming a Parish Councillor or know someone who may be keen but might just need some encouragement then please get in contact with the Parish Council Clerk by email (scott.smy@sky.com) or telephone number 01752 698305. Parish Council meetings on the first Wednesday of the month at 7.30pm. Venues published on this website under Council business.

Join us and make a Local Change..
Contact : Scott Smy (Parish Clerk) Scott.Smy@shaughpriorparish.gov.uk
-----oOo-----
BHS DEVON The British Horse Society

Road & Rider Awareness Evening
Calling all road users and riders!
BHS Devon welcomes everyone to this free and informative evening on how to share the roads safely Speakers from the BHS Safety Team and local Police will guide you through what you need to know and do to keep you and our horses safe on the roads on Dartmoor and the surrounding area.
Plus the opportunity to join the free Devon and Cornwall Horsewatch Scheme
THURSDAY 7th March 2019 19:30 until 21:30
The Bedford Hotel, 1 Plymouth Rd, Tavistock PL19 8BB
entry free of charge - refreshments available - Further Information from Julie.Garbutt@bhs.org.uk or 07808 141009 or visit www.bhs.org.uk/devon
-----oOo-----
In Memoriam - Stan Finemore
The Parish Council are pleased to display this very distinguished memorial which has now been completed, and presented to the Chairman of Shaugh Prior Parish Council by Council. Bill Hitchins from DNPA presented the memorial which is dedicated to Stan Finemore.

The Granite Memorial plaque which has been hand cut and prepared by the stonemason from DNPA, now sits alongside the tree planted in Stan's memory on the land adjacent to his house. - Part way down the village on the left.

Stan Finemore was a Parish Councillor and Tree Warden to the Shaugh Prior Parish for many years.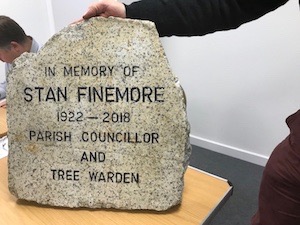 Shaugh Prior Commoners' Association

AGM POSTPONED FROM JANUARY 31st DUE TO WEATHER..

Shaugh Prior Commoners' Association
NOTICE of AGM
The Annual General Meeting of Shaugh Prior Commoners' Association
will be held at THE MOORLAND HOTEL, WOTTER,
on Thursday 21st February 2019
All are welcome.
Devon County Council new website
This is the Interactive website which is easily navigated to find exactly what you need speedily.

You can report and plot the potholes on the map, find planning applications, pay or appeal a parking ticket, etc etc .. on this extremely good website. Its quicker than getting through on the phone or waiting for an email reply.
Go to:

http://www.devon.gov.uk
DEVON COUNTY COUNCIL

Bickleigh Planned Road Closure on New Road
Devon County Council have works to undertake on New Road, Bickleigh that will require the closure of New Road for an estimated period of two weeks to allow drainage works to be undertaken in the vicinity of Bickleigh House. These works are planned to commence on Monday 4th March. It is intended to coordinate the drainage works with the construction of a retaining wall in the same location which may require traffic lights to be in place either side of the closure to provide a safe working space for our contractors.

For the duration of the closure no vehicular access will be possible along New Road. The diversion route shall be via Shaugh Prior, Cadover Bridge, Yelverton and the A386. Due to the weight restriction at Shaugh Bridge it will not be possible for large vehicles to use this route and as an alternative gatemen will be located at both ends of Little Down Lane during working hours to enable access to both Bickleigh Village and Bickleigh Barracks for large vehicles.

We apologise for any disruption caused by these essential works.
Highway Asset Officer
Highway Asset Management
Devon County Council
Philip.prigg@devon.gov.uk
Tel: 01392 383000 (x3000) "when prompted ask for me by name"
Website: http://www.devon.gov.uk
Waste & Recycling Survey
The survey from swdevon.gov.uk aims to find out how residents would like to communicate forthcoming changes in the recycling and waste services.
"Recycling and waste services cannot work effectively without your support so we want to know the best way of communicating with you as we introduce the changes.
You can help us by completing this short survey by 11 February. We will then be able to talk to you in the way you want us to".

The survey will close on 11 February 2019

Download the Waste and Recycle Survey here (144KB)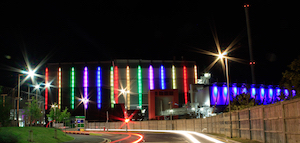 Dartmoor Speedwatch Forum
A report of Animal Incidents on Dartmoor up till December '18.

Road Traffic Collisions

184 up till December '18.
152 of those were killed

There have been 28 dead ponies and 8 injured.
115 dead sheep and 12 injured
9 dead cows and 12 injured.

please note: Another two ponies since killed -
one on the Wotter-Lee Moor Road and one by Dragons Hill.

This year will be the highest ever recorded RTC's. This Speaks for itself.


Dog Attacks

102 to date

Again, this is the highest that Karla (DLPS) has recorded.
The police have recently been much more actively involved.'
Many incidents have been crimed' with the police.
Many dog owners have received dog control orders and Karla has managed to compensate the farmer where possible.

PC Martin Beck is our new Rural Crime Officer for Dartmoor.

A report by Exeter University and DNPA reveals they believe day visitors to Dartmoor will increase by 1 million over 20 years.

Concern is for the impact of those visitors on footpath erosion and wildlife disturbance.
Also the impact on grazing livestock.

"You only need to see the increase in the deaths on the road, and dog related incidents, to realise that farmers are suffering already".


NOTICE OF ROAD CLOSURE - for CATTLE GRID CLEANSING

ROAD TRAFFIC REGULATION ACT 1984

SECTION 14

THE COUNTY OF DEVON (TEMPORARY RESTRICTION) VARIOUS ROADS, DEVON

ORDER 2018

TEMPORARY PROHIBITION OF THROUGH TRAFFIC & PARKING

Notice is hereby given that Devon County Council has made the above titled order

FROM : TUESDAY 18 DECEMBER 2018 for maximum of 18 months.

No person shall cause or permit any vehicle to proceed or wait on the sections of Affected Roads.

All roads will be closed for between 1 and 3 days within the road closure period. It is anticipated that the closures will be on consecutive days.

Advanced warning sign for the road closure will be placed on site at least 7 days before the planned commencement of work at each location.

This temporary restriction is considered necessary to enable :


DEVON HIGHWAYS - CATTLE GRID CLEANSING 2018/19

for additional information contact Devon County Council Telephone 01392 380188 Ref: TTRO1827999


Roads affecting Shaugh Parish are: Lane past Portworthy, Lee Moor, Brag Lane, Shaugh. Bowling Green, Shaugh, Collard Lane Wotter, Road from Bottle Hill to Drakelands, Drakelands









Broadband Update

If you currently experience broadband speeds of less than 2 Megabits per second (Mbps), the Better Broadband Voucher Scheme may be able to help you access a basic broadband service that will offer download speeds of at least 10 Mbps.

The Better Broadband Voucher Scheme, developed by the UK government, provides a voucher worth up to £350 for basic broadband installation to homes and businesses that will not benefit from superfast broadband within the next twelve months.
https://basicbroadband.culture.gov.uk
The Parish Council are looking into the problems residents of the Villages are experiencing in obtaining Superfast and a better Internet Connection.
Here is an update from the last meeting on 3rd October.
"Firstly can I start by thanking all of those people who took the time to respond to the request for information on any broadband issues they were experiencing? This was extremely helpful in highlighting the issues to Matt Barrow of Connecting Devon and Somerset (CDS).

Matt was present at the October PC meeting and gave a brief presentation. He confirmed that whilst some of Shaugh Prior was included within Phase 1 of the superfast broadband roll-out (which was fibre to premise), the areas of Wotter and Lee Moor could not be included due to the line distance between the cabinet (which is located at Beatland Cross) and the majority of the properties. Therefore Wotter and Lee Moor would come under Phase 2 which is being implemented by Airband and which relies upon line of sight. Around 15-20% of all properties in Devon and Somerset would not be covered under Phase 1.

Matt did mention that there were lots of data system errors on the part of BT and they are currently working through those errors (many of these data errors are as a result of historical data entries dating back to the 1970's and 80's). Those errors are behind the issues highlighted where a neighbouring property has broadband but the property next door has been told by BT that they cannot get it. If you consider that there is an obvious data error then Matt suggested you drop him an email at:

matt.barrow@devon.gov.uk

If there are groups of 3 or more properties together wanting to get Broadband then there is the option of the BT Community Fibre Partnership to provide improved fibre cabling from the cabinet to the premise. The cost can vary between £2k and £10k (depending on distance) but under the Local Full Fibre Network Scheme grants can be obtained to help towards these costs – if it's less than £3k then it could be funded fully by grants.

Moving forward Matt suggested that properties wishing to secure broadband should in the first instance speak to Airband – 01905 676121 or https://www.airband.co.uk
The majority of the properties in Wotter and Lee Moor should be able to get superfast broadband via Airband. He also confirmed that further option was to use the voucher scheme to get a 4g aerial mounted on your property which can then be used to get broadband to the property (this is a good option for more remote properties). This is a good 'quick fix' option. Further information on the CDS voucher scheme for Phase 2 will be going out in the next few months. The website address is:

https://www.connectingdevonandsomerset.co.uk

Finally Matt did mention that a clawback scheme was in operation with BT so that a proportion of their profits go back to CDS to then be reinvested into areas in Devon and Somerset where fibre to the premise has not been provided. This money would be used to upgrade the cabling infrastructure to allow fibre to the premise to be realised. Matt confirmed that several areas have been identified in the two counties including Wotter and Lee Moor".

The Dartmoor Access Forum held a meeting on 6th Nov. '18.

1. They report the good news that Otters have recently been seen in most rivers on Dartmoor.
2. There was a suggestion that some upper reaches of the Dart should become an SSSI, (Site of special scientific Interest), because of the biodiversity.

3. Following complaints that Footpath signage on the moor is looking shabby, it was explained that this was due the costs and reduced funding.

Now the signs are being made in-house cost have been reduced. Walkers complained that Footpath destinations were not written on the posts any more.
This could now be rectified as the renewal scheme progresses.
MOORLAND HOTEL -
Please Note : there is a Recycling Bottle Bank at the Moorland Hotel.
It's behind the big brown fence just right of the front door. The Community are very welcome to use it.

Access is available during the day but they would ask you not to use the bottle bank at night. It is noisy, and there are two big dogs roaming that area at night!

So feel free to come and use it to recycle all your glass bottles.
Did you know that Avon products can be order through Tish at the Hotel.
POST OFFICE - is on Monday and Thursday mornings in the lounge of the Moorland Hotel.

You can pay bills, withdraw cash, and use all the P.O facilities.

Restaurant: call to book 01752 839228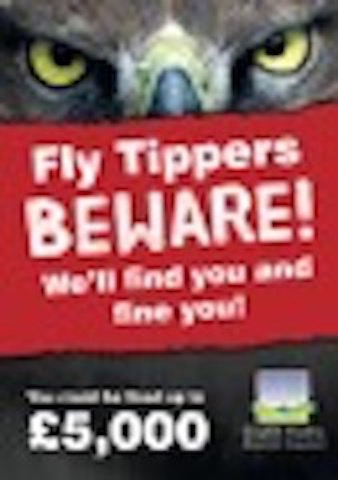 USE YOUR DEVICES TO CONTACT THE COUNCIL (South Ham and West Devon Councils).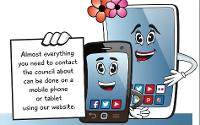 South Hams and West Devon Councils remind us all that nearly everything you need to contact the council about can be done on a mobile phone or tablet using their websites.
"Our customers can now apply for benefits, pay their council tax, even send us pictures of their key documents as evidence, all with their phones. They no longer need to scan documents in or bring them to us at the council. Just take a picture and load them onto the forms, just like they would upload a picture to Facebook or Instagram."
"We want to make it as simple as possible for our customers to be able to send us information from the devices that they use everyday.
they do not need to phone or visit the council, just go on the internet on their mobile phones or tablets and use the council's websites."
So next time you want to contact the council, don't call the council, use your phone or tablet! It will be like having the council in your pocket.
To all Land Owners, and House Owners of land adjacent to Shaugh Common


From Shaugh Prior Commoners' Association
This is a
Reminder
that it is your Legal Responsibility to keep Moorland Livestock out of your land.
So please check and keep your boundary walls and fences in good condition, and ensure you keep all gates closed if you don?t want uninvited guests.
We are sure you all know this, but we do have occasional problems!
Thank-You!
Neighbourhood Watch - Wotter, Shaugh Prior and Lee Moor :

Report an injured animal
Dartmoor Livestock Protection Society: 07873 587561



SHAUGH PRIOR PARISH POLICE CRIME REPORT

DECEMBER CRIME REPORT -

There were three crimes recorded for December.

Use of threatening / abusive / behaviour to cause alarm and distress – 08/12 at Imerys.

Dispute between colleagues, no witnesses and undetected.

Theft from Motor Vehicle – 11/12 at Wotter. Number plate removed and stolen –

Information marker put on the registration at this time.

Assault – 31/12 at Wotter. Victim not supporting action.

We were aware of the pony in foal as one of our Officers attended very upsetting. Not aware of the other.

The cyclist at Beatland Cross was purely an accident he skidded on the road at speed. I attended and the wait for ambulance was over 40 minutes as always resources stretched. It caused chaos as he was right in the middle of the four way cross. Possible pelvis fracture. The sign and post was nothing to do with his accident. Unknown how this happened as nothing recorded.

PC 16350 Tamsyn Dingley is now back with us for the foreseeable and current Sgt is 17349 Paul Lucas.

CRIMES FOR JANUARY

27/01/19 Sheep hit by vehicle. Unit attended and alerted local farmer who attended and dealt.
13/01/19 M/C racing along Lee Moor road. Unit attended and provided words of advice.
06/01/19 RTC at Beatland Cross. Off duty officer present – witnessed driver and passenger swap seats – one person reported for offences.
No other news at present.
Police ( Direct dial: 07595 011193)

email police on
101@dc.police.uk
Protect Yourself




Your bank or the police will never:

- Phone and ask you for your PIN or full banking password.

- Ask you to withdraw money to hand over to them for safe-keeping, or send someone to your home to collect cash, PIN, cards or cheque books if you are a victim of fraud.

Don't assume an email or phone call is authentic

Just because someone knows your basic details (such as your name and address or even your mother's maiden name), it doesn't mean they are genuine. Be mindful of who you trust – criminals may try and trick you into their confidence by telling you that you've been a victim of fraud

Stay in control

If something feels wrong then it is usually right to question it. Have the confidence to refuse unusual requests for personal or financial information.

For more information about how to protect yourself online visit