History and the Evolution of the Landscape
Introduction
Shaugh Prior Parish has an amazing variety of landscapes. Some years ago it was common for local residents to beat the bounds of the parish (Has any one done this recently?) If you have tried this 32 mile hike then the variety of landscapes will have been obvious to you. In the West is the deep wooded gorge of the Plym valley; to the North are the dramatic treeless moorlands of Dartmoor; to the East one finds the magnificent moonscape of the 'china clay country' and as you travel South the rugged landscapes give way to the gentle rolling farmland of the 'in country' of South Hams.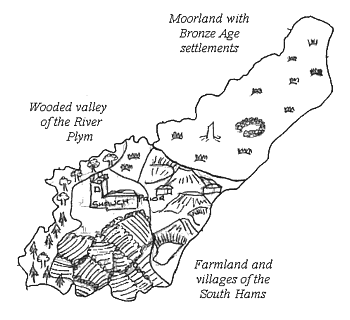 These landscapes have resulted from the action of humans working in the natural environment over thousands of years..... the moorland landscape bears the marks of humans who lived here over 2,000 years ago while the china clay landscape is not more than 150 years old. Each area has its own story to tell and each story is different!
The first visitors
The earliest humans to set eyes on this area were probably Mesolithic hunters over 5,000 years ago. Dartmoor was very cold at the end of the ice ages. Despite this, in the summer months, the hunters who lived near the coast would arrive to chase the abundant game which roamed the area. Some people think they cleared woodland on the edge of the moor for temporary camps. Could there have been a camp near Shaugh? If these hunters did visit this area we have no evidence of their activities.