Parish Plan for Shaugh Prior Parish
SHAUGH PRIOR PARISH COUNCIL EMERGENCY INFORMATION

Please Note: As of September 2020 The Emergency Parish Plan is under review for updating.


This information sheet tells you what to do in an emergency. Please keep it somewhere visible in your household.




THE EMERGENCY PLAN

Shaugh Prior Parish Council has a plan to enable the community to respond and deal with a major emergency when outside assistance is unavailable, or delayed.The Shaugh Prior Parish Council Emergency Team will activate the plan. The Emergency Team will endeavour to maintain contact with the Emergency Services and South Hams District Council.The Parish Council is concerned with providing shelter, food, warmth and general first aid for people who are vulnerable or made homeless during an emergency.




WHO TO CONTACT IF THERE IS A MAJOR EMERGENCY

MAJOR EMERGENCIES ARE CO-ORDINATED BY THE POLICE.

FIRST TRY TO CALL 999 OR MOBILE 112.

THEN GET IN TOUCH WITH THE PARISH EMERGENCY TEAM

CO-ORDINATORS:

Keith Stone 07861 477027 OR 01752 839477

Nick Wassell 07731 816507 OR 01752 839205




WHAT TO DO IN A MAJOR EMERGENCY

CONTACT THE EMERGENCY TEAM

LOOK AFTER YOUR NEIGHBOUR

VOLUNTEER TO HELP IF YOU HAVE PRACTICAL SKILLS OR COULD ACT AS A COURIER



WHAT TO DO IN AN EVACUATION

MOVE TO YOUR NEAREST EMERGENCY ACCOMMODATION

Emergency Teams in the Villages:

LEE MOOR

Lee Moor Public Hall - John McIver 01752 839372

John Small 01752 839345

WOTTER

Peter Spiers 07816 000364

The Moorland Hotel - Colin Taffurelli 01752 839199

Vanessa Tyler 01752 839228 07764 233714

SHAUGH PRIOR

Shaugh Prior Recreational Hall 01752 839376 - Sue Burkill 01752 839256

Shaugh Prior Primary School 01752 839373 Malcolm Norman 01752 839484

The White Thorn Inn 01752 839245





BRING SPARE BEDDING IF POSSIBLE

EMERGENCY EQUIPMENT AND INSTRUCTIONS ARE HELD AT EACH OF THESE PLACES

Emergency Team Co-ordinators

COMMUNICATIONS - You should call Keith Stone 07861 477027, 01752 839477


Nick Wassell 07731 816507, 01752 839205

Communication with you in an emergency will be by landline/mobile telephone or if this is not possible an emergency co-ordinator will arrange for someone to contact you face to face

PUBLIC INFORMATION

Local TV or radio will provide up to date information. Try BBC1 and BBC Radio Devon FM 103.4 MW855 The internet may also provide information.

END




OTHER EMERGENCIES

EMERGENCY HELPLINE NUMBERS

Emergency Services 999 or from Mobile 112

Derriford Hospital 0845 1558155

South Hams District Council 01803 861287

Electricity 0800 365900

Gas 0800 111999

Water Leaks 0800 230056

LOCAL HELP

Defibrillators are located at Lee Moor Public Hall, Shaugh Prior Recreation Hall or outside Wotter Surgery

Snow Warden: Nick Wassell 07731 816507 or 01752 839205

Injured Deer: Eric Elliot 01752 839218, Andrew Eggins 01822 853133

Injured Sheep: Keith Stone 07861 477027 or 01752 839477

Fallen Tree on Road: Nick Wassell 07731 816507 01752 839205


END




OUR PARISH PLAN

SHAUGH PRIOR PARISH PLAN 2007/09 - Download final document

Update September 2008

We have now delivered the Questionnaires throughout the Parish after weeks of careful planning!! We are on the home run!!
So do please complete them as soon as you can as they will be collected very promptly in order to process the information without delay. If you have not received your set of questions then please contact Marilyn Small (839345)

We will inform you of further progress very soon.


'The Story So Far' April 2008

After the great success of our Chinese New Year themed Community Day we have already learnt a lot about our Parish. For instance did you know that the number of houses within our Parish has increased from 350 in 1999 to nearer 400 today?

Over 200 people attended on February 9th and thoroughly enjoyed the fun! During the day we gathered a huge number of comments and are in the process of generating a questionnaire tailored to suit the needs and wants of our Parish.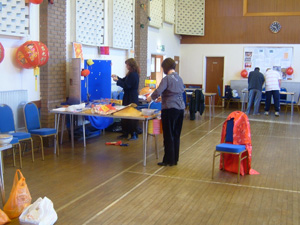 Already things are happening – several people were surprised at the number of young people (over 70 came to the fun day) who live within our Parish and as a result plans to restart a youth club are afoot! It has also become apparent that people are not aware of the services available to them such as the mobile fish, meat and general sundry vans that visit the parish weekly, or that there are still milk deliveries to the area as well as small groups that operate paper collections. We are now in the process of making this information available through the Parish Magazine and Parish Website.
A lot of work is going on behind the scenes to ensure that the Parish Plan meets its one-year target and so far, we are sticking to it!
The Parish Plan isn't just about the things you want to change but also the things you value and wish to remain the same, the things that give you a 'sense of place', of belonging in your rural community. Future challenges resulting from the changes in operation of Imerys and Wolf minerals may mean we need to have a strong community voice to be heard! So make sure you complete your questionnaire as it will be arriving in the very near future. It is really important that your household completes it to really move our…YOUR…Parish Plan forward.
In 1999 75% of households completed their questionnaire let's beat that total!

UPDATE Feb 2008
What a success!! Our Community Events Day was a huge success with over 200 people attending! Several constructive comments were given and we now have an excellent foundation for generating a questionnaire tailored to the needs of our Parish. It was a memorable day and a lot of fun was had by all.
Many thanks to those who helped and donated memorabilia.
For general info about the Parish Plan please scroll to the end of this page.
Further Comments:
SPORTS
Basketball x 2
Tennis x 11
Football including 5 a side and sports club x3
Motorbike/Motor X track x 4

CLUBS AND ENTERTAINMENT
Social Club
Youth games/snooker/disco
Girls Club
Dancing classes
Table tennis
Martial Arts
Weekend/ School holiday clubs
Trips out under 18s disco/ Alton Towers/climbing/Ski - tobogganing/skating/paint balling

RECREATIONAL
Park in Shaugh x9
Bigger, better more parks x 15
Skatepark x4
Evening classes x 2
Cycling proficiency
Annual Parish Community Day

EQUIPMENT FOR PARKS
Spinning poles
bungee rope
web obsticle
monkey bars
climbing frame ( maybe side of building)
roundabout
Transport
Speeding. Stop motorbike riding up and down Wotter Village. It is a continuous nuisance noise
Noisy Motorbikes on the Village roads with drilled holes in their exhaust
Make a bike shelter
Stop motorbikes riding through Wotter for fun
Heavy Aggregate Lorries on the Bickleigh/Shaugh Prior road – Drive too fast – dangerous
Lorries on the road all the time (Dangerous) Nowhere to ride horses
Slow Traffic down coming into the Lee Moor Village Especially Football teams, Imrys traffic and Irresponsible residents.
People are driving too fast – animals are being killed
China Clay lorries driving through Shaugh Village – I don't want Speed bumps
Less lorries and less speed
Safer roads
Speed of traffic through all three villages needs addressing
Traffic Speed too high
There is already a weight restriction on lorries passing through the village and over Shaugh bridge, this is ignored totally. What is the point of restrictions if the Police do not enforce them. A more active police enforcement and presence in the village is required.
Better lighting up by Beatland Corner cross roads .
We need pavements through the village of Shaugh Prior, traffic calming i.e. reduce speed limit to 20mph, introduce speed bumps or chicanes.
Stop speeding cars and bikes
People are driving too fast and animals are being killed
Traffic Calming
More Bridal paths, Sponsored ride
Stop fast traffic
Inconsiderate HGV drivers on the Lee Moor – Plympton road – they think they own the road
Stop lorries going through the villages
Introduce a speed limit from Wotter to bridge at Watts Blake & Bearn
Road needs repair through Shaugh Prior
Cats eyes need to be replaced at Lee Moor
Lower the speed limits
Neighbourhood Watch Co-ordinator in Lee Moor
Neighbourhood Watch for Wotter
I would like to see Wotter Hall remain
I would like to take a tour of The Pit and see how the clay is processed

Dog Litter Bins
Dog fouling owners not cleaning up
Dog owners to take responsibility for picking up the mess made by their dogs
Dog Litter Bins needed in the villages
We need dog poo bins
Dog bins required and notice re fine etc/Dog Warden in the villages
Dog Poo bins for Lee Moor at the top of the village
Dog bins/Dog mess signs/and possible warden patrol
Dog Poo Bins needed
Dog Poo bins and to be emptied
Improve area around Shaugh Bridge (Clean up the mud and leaves more regularly)
Make Moorland area within Lee Moor Village safe e.g. fencing, barbed wire metal sticking out of the ground where the children play
McDonald waste bags in the lanes (thrown out of car windows)
Parish litter pick up needed
Get the rubbish cleared up from Shaugh Bridge or at Cadover Bridge. We should put a bin there to stop pollution of the river
Shops
I want more shops.
Get shop in the villages especially Wotter & Lee Moor
Would like papers delivered & preferably a shop and post office
I would like a shop and a tea room
I would like a village shop in Lee Moor, a chocolate stand and a sweet shop
Move the Post office to the farm shop and open more often
We need a shop
I would like to see a newspaper delivery around Wotter/Shaugh Prior/Lee Moor
Newspaper delivery Wotter/Shaugh Prior/Lee Moor?
I would like a shop
I would like a corner shop
I would like a general shop
A small shop selling newspapers/milk/and bread please
I want a village shop
Renew the gate leading to Doctor's surgery. See to door to Post Office to make it easier to open!
Could we have a Village Co-operative
Activities
Village break dance club
A.T.C. hut
Village Sports club
Would like more community projects
Family days, evenings, bring your own food/drink
Extra activities, Darts, Pool, Parties/Discos, Trips for youth, sponsored horse rides
More summer festivals to build community spirit. Scarecrow festival, music festival, food & wine
Themed party nights
I would like a games room
A four day fair & a break dance club
THIS IS THE BEST PLACE IN THE WORLD!!!!!!!
I like the peace & quiet of the life in Wotter
We like the village & rural life. No housing estates!
I like the countryside views from the properties in the villages
I don't want any more sheep, trees or fields!!
More affordable housing
Plant more flowers daffodils daisies and roses
Plant more trees
Issues around Dartmoor Cottages – Wotter
When we moved to Dartmoor Cottages there was parking available between each of the blocks of terraces, 4 or 5 cars could park here. Now Imerys has sold off that land to the owners of the end terraced houses only – so where does everyone else park?
Our choices are down by the park which is a real problem in wet weather as the ground just gets churned up – plus we believe that this land belongs to the National Park so do we have the right to park there? Or our other option is the main road through Wotter. Which is obviously dangerous as this road is quite narrow
Very messy and untidy behind Dartmoor Cottages
Imerys selling land off in Wotter and now no provisions for parking (especially Dartmoor cottages) resulting in parking on the road
Parking is becoming a real issue for Dartmoor Cottages in Wotter – now the land between the terraces has been sold off to the owners of the end terraces. We have nowhere to park other than the road or down by the park which is tearing up the moor land
Childrens Parks
We need more equipment for the parks – such as skate board park
I would like a better park
I want a Park in Shaugh Prior
I would like a park
A park behind Shaugh Prior Recreation Hall
Transport
A bus to Ivybridge
A bus link to Ivybridge
Buses
Make more buses available during the day plus a Plympton route
General Maintenance
A more generous contribution to grave yard maintenance

Turn the Old Chapel Sunday School at Lee Moor Village into a Heritage Centre

Turn the old Chaple/Sunday School in Lee Moor into a Heritage Centre of past records
Replace the public toilets in Lee Moor
Replace the public toilets in Lee Moor Village
Put all electric cables underground
We need more street lighting
We need street lighting in Lee Moor Montague Tce/Saltram Tce and road improvements
Lee Moor street lighting Montague/Saltram Terraces and road improvements
Lighting needed along Wotter by-pass so as not to spoil the environment, this could be in the form of small type lamp posts as used around the airports so that only the road is lit up, making it much safer
More lighting for the park
I don't like the drippy drainpipe outside the door by the kitchen of the Public Hall
I Would like a pub garden
Footpath to link the villages
Pavements or safe areas to walk on busy roads
An official walkway to the moor
Footpath between villages
Improve the footpath – Higher Trethewey Gardens
Need pedestrian lane through Shaugh Prior (Like Meavy Lane at Yelverton)
Footpath Cycle Track to link the three villages
Virtual pavement from White Thorn Inn Corner at Shaugh Prior
Foot/Cycle path connecting the three villages
A proper footpath to make walking more comfortable between Shaugh Prior and Lee Moor
Need footpath from Cadover to Shaugh Bragg Lane
Footpath linking Lee Moor and Wotter
A footpath from Lee Moor to Wotter or a path from Cadover

Initial Comments:

1.More buses needed
2.A footpath between villages
3. Tennis nets at the Tennis courts at Lee Moor
4. More evening classes for the community e.g. dancing or Jazz or Pottery
5. A rollercoaster
6. A Beach
7. Clean up behind Dartmoor Cottages (Wotter)
8. Clean up Wotter village e.g. Roadside, Hedges and behind Dartmoor Cottages
9. Tennis courts in Lee Moor put back how they should be
10. More dancing
11. Affordable housing for local people
12. Jobs for local people
13. Trees St Aubyn Terr to be preserved
14. Foot path & cycling path Lee Moor to Shaugh Prior
15. More bus runs
16. Cricket wicket made up in field for summer
17. Youth club & Sport centre (Low Cost)
18. Local drama, comedy and music events
19. Youth club
20. Publicise & updated website with news of events, club etc...
21. Coach Tours for all (Young & Old)
22. Foot path
23. Foot path or white lines at White Thorn Pub
24. Youth Centre
25. Playground
26. Foot path to link the three villages
27. Age specific activity groups
28. Enforce speed limits
29. Access to Moors
30. Pole Dancing Club
31. Activities in a safe environment for adolescents (No intrusive activities – re polluting/noisy)
32. Monthly book club
33. Establish a safe bridle path (Between Top of Bragg lane and Cadover)
34. Patronise our local shops & facilities
35. To have a say in what IMERYS & WBB do locally
36. Playground for children
37. Pavement on the corner of the White Thorn (For the professional women)
38. Shop
39. More signs for horse riders on the roads. So drivers are aware they are around the lanes
40. Times of local shop vans to be publicised web-news
41. Playground in Shaugh Prior
42. Re-home the Post Office
43. Open footpath from Shaugh to Bickleigh
44. Playground
45. Late buses
46. Re sit better Post Office
47. More evening classes
48. Inter village sports competitions (5 a-side)
49. Beat the bounds & get the stone back
50. The lack of kids things to do
51. Patronise our local facilities
52. Lorries thundering through the village of Shaugh
53. No safe access to the moors from Lee Moor
54. Wildlife area to play in
55. No post office
56. Clean up Wotter e.g. roads, hedges etc
57. No Sunday bus
58. No parks to play in
59. More village clubs for kids & adults
60. Ferns need to be cut more on footpaths
61. No parks in Shaugh or fun things for kids
62. No proper kids club
63. No youth centre, playground & post office

OUR PARISH PLAN

Committee Members
Chair - Marilyn Small
Treasurer - Colin Taffurelli
Richard Vincent
Tanya James
Mary Haimes
Barrie Toms
Pam Golding
Sergio Suchowlanski
Rachel Rayers
Elaine Smerdon

A Parish Plan can help to give our community a voice. It can help us protect what we feel is important in our area and it can help secure funding to further improve our community. It is vital that everyone tries to contribute to it so that we produce a useful, accurate representation of the needs of EVERYONE in our Parish.

We are have been actively consulting members of the Parish over the last few months which culminated in our Community Day - this was a great success and just shows the sort of thing that can be achieved within a small community. We are now facing the challenge of developing a questionnaire that will produce both qualatative and quantative data to serve us in our quest of improving our Parish. This will be achieved through careful analysis of the comments we have had so far along with professional guidence. Once developed, we will pilot them briefly before rolling out to all members of the Parish – FILLING in YOUR questionnaire will be paramount in enabling the Parish Plan to reach effective fruition.

Please revisit this website regularly as we will be updating it and adding developments as they occur. We will hopefully be having more enjoyable events in the not too distant future – so keep informed again by checking this website and the Parish News.

For more information about Parish Plans please click on the links below
http://www.devonrcc.org.uk/page/parish_plans.php
http://www.communityfirst.org.uk/parish-plans.htm