Latest Parish News and Information
Parish Defibrillators:

There are three Parish Defibrillators for medical emergencies.
Each village has one installed and they are checked and monitored regularly by our Parish Councillors.
Wotter - on the wall outside the Surgery in Wotter Village. (Next to the old Methodist Hall)
Shaugh - on the wall of the Parish Hall
Lee Moor - on the wall of the Parish Hall.
DARTMOOR LOCAL PLAN
News From South Hams District Council
Review of Polling Districts and Polling Places

The Representation of the People Act 1983, Schedule A1
The Electoral Registration and Administration Act 2006, and the Review of Polling District & Polling Places (Parliamentary Elections) Regulations 2006.
South Hams District Council are required by law to carry out a review of the polling districts and polling places in the South Hams every 5 years.
The purpose of the review is to ensure that all polling districts and polling places are, as far as possible, suitable and accessible to all voters. We welcome comments from any person or organisation wishing to make a representation in respect of the arrangement of polling districts and polling places within the South Hams District Council boundary; or concerning the accessibility of polling stations wherever possible giving alternative suitable places that may be used. We would also like to hear from those people who are happy with their polling station as well as those who are not in order to have a balanced view to consider.


SOUTH HAMS DISTRICT COUNCIL
Representation of the People Act 1983
POLLING DISTRICT AND POLLING PLACES REVIEW
NOTICE IS HEREBY GIVEN that in accordance with Section 18c of the Representation of the People Act, as amended by Section 16 of

the Electoral Administration Acts 2006 and 2013, the District Council is conducting a review of Polling Districts and Polling Places.
The opportunity will also be taken to review polling stations.

A list of existing polling stations is available to view at the Electoral Services Office (01803) 861419 or at www.southhams.gov.uk
Any person or organisation wishing to make a representation in respect of the arrangement of polling districts and polling places within the South Hams District Council boundary; or concerning the accessibility of polling stations, must write (wherever possible giving alternative suitable places that may be used as polling places) to:-
The Electoral Services Office, Follaton House, Plymouth Road, Totnes, TQ9 5NE or email elections@southhams.gov.uk
The closing date for submissions is 20 September 2019.
The Acting Returning Officers will make a comment on proposed polling stations and these will be published within 30 days of receipt. Further comments may be made at this stage.
The Council will decide on the final polling arrangements at its meeting in November.
Any submissions received will form part of the review process and will be published upon completion of the review.

Sophie Hosking
Chief Executive South Hams District Council

Click on the link below to view the Polling District Places Schedule

Click on the link below to view the Current Polling Stations and electorates

Download the Current Polling Stations and electorates
Click on the link below to view the Review of Polling Districts and Polling Places - Info for interested parties.
Review of Polling Districts and Polling Places
ACCESS TO WOTTER SURGERY
There is much speculation regarding a proposal by the owners of the old Methodist Church (now being turned into flats) at Wotter, to alter the access to the doctor's surgery.
If you have concerns about this issue, then please get in touch with your Parish Councillor.

Update...

A small meeting was held on Thursday 8th August when the very pleasant lady owner called Sam invited a few residents to view the plans for the proposed new entrance, along with a representative from Beacon Medical Group, the Architect and builder.

There were three options on the table. After lively discussions the disabled residents showed their preference for leaving the existing entrance as it is, and extending the path to the boundary of the land. This makes a longer walking distance but they preferred that to a zig zag more gentle slope on the other side of the building.
If you wish to have your say, it is suggested you contact your Parish Councillor or write in to the Surgery.
DARTMOOR SPEEDWATCH FORUM
Newnham Solar Community Fund have approved a Grant to Dartmoor Speedwatch, which has enabled the Solar Speed Units on the Lee Moor - Wotter Road to be reinstated. The Batteries to run the units have now been replaced with the help of this Grant, together with a Donation from the Dartmoor Livestock Protection Fund.
If you see them Flashing - you are driving too fast! The limit is 40mph in that area.
Grateful thanks go to Newnham and DLPS.

LOCAL BUS SERVICE 59

Local Bus Service 59 (Plymouth George Junction - Roborough - Bickleigh - Shaugh Prior - Wotter - Lee Moor - Cornwood - Lutton - Sparkwell - Hemerdon - Plympton - Plymouth)

The County Council contract for the operation of this financially supported service has been the subject of a scheduled retender, the outcome of which is that a new contract has been awarded to Oakley's Coaches, who will take over from Target Travel with effect from Monday 16th September 2019.

There will be no changes to the route, timetable or fares.
PLYMOUTH - LEE MOOR - GEORGE JUNCTION
Via Sparkwell, Cornwood, Bickleigh
Monday - Saturday (Except Public Holidays)


Shaugh Prior Parish Council Meeting - Held at Lee Moor Public Hall
The next meeting of the Parish Council is Wednesday 2nd October starts at 7.30pm. Public Welcome.

Shaugh Prior Parish Council - NOTICE...apply to become a Parish Councillor

Please note, that Applications for the role of Parish Councillor in the Parish of Shaugh Prior are detailed below.
The Parish would particularly welcome applications from people living in Lee Moor, due to the recent loss from the Council of both Councillor Small and Mc.Iver. A good balance of representation of all three villages is important to the Council, so please give this your consideration......

SHAUGH PRIOR PARISH COUNCIL

Parish Clerk: Mr Scott Smy, 57 Priory Close, Ivybridge, Devon. PL21 9JG
01752 698305 scott.smy@shaughpriorparish.gov.uk
CO-OPTION OF COUNCILLORS
"AS A RESULT OF THE RECENT PARISH COUNCIL ELECTION, WE NOW HAVE 2 SEATS THAT CAN BE FILLED BY CO-OPTION.
IF YOU WOULD LIKE TO HAVE A GREATER SAY ON LOCAL ISSUES THAT IMPACT UPON YOU AND YOUR NEIGHBOURS, AND TRULY WANT TO MAKE A DIFFERENCE...
THEN WHY NOT CONSIDER APPLYING?
APPLICATION FOR THE POSTS SHOULD BE MADE TO THE PARISH CLERK (EITHER BY POST OR EMAIL - SEE ABOVE)
INCLUDING A BRIEF STATEMENT EXPLAINING WHY YOU WANT TO BECOME A PARISH CLLR AND WHAT SKILLS YOU WOULD BRING TO THE POSITION".
Wolf Mine Storm Dust
The Dust Storms from the Mine, will continue to be monitored by South Hams District Council.

BROADBAND Update
The Connecting Devon and Somerset (CDS) broadband programme is now offering vouchers through the national BDUK Better Broadband Scheme.
All homes and businesses in the region with broadband speeds of less than two Megabits per second (Mbps), without a published delivery date for superfast broadband within the next 12 months, are now eligible to apply for an interim solution under the voucher scheme.
The Better Broadband Voucher Scheme,
administered by BDUK, helps provide access to a broadband service offering download speeds of at least 10 Mbps. Vouchers worth up to £350 would contribute towards the cost of equipment and installation of a 4G, Fixed Wireless or Satellite solution.
Click on the Link and follow the pages:
NOTICE OF ROAD CLOSURE - for CATTLE GRID CLEANSING

ROAD TRAFFIC REGULATION ACT 1984
SECTION 14
THE COUNTY OF DEVON (TEMPORARY RESTRICTION) VARIOUS ROADS, DEVON
ORDER 2018
TEMPORARY PROHIBITION OF THROUGH TRAFFIC & PARKING
Notice is hereby given that Devon County Council has made the above titled order
FROM : TUESDAY 18 DECEMBER 2018 for maximum of 18 months.
No person shall cause or permit any vehicle to proceed or wait on the sections of Affected Roads.
All roads will be closed for between 1 and 3 days within the road closure period. It is anticipated that the closures will be on consecutive days.
Advanced warning sign for the road closure will be placed on site at least 7 days before the planned commencement of work at each location.
This temporary restriction is considered necessary to enable :

DEVON HIGHWAYS - CATTLE GRID CLEANSING 2018/19
for additional information contact Devon County Council Telephone 01392 380188 Ref: TTRO1827999

Roads affecting Shaugh Parish are: Lane past Portworthy, Lee Moor, Brag Lane, Shaugh. Bowling Green, Shaugh, Collard Lane Wotter, Road from Bottle Hill to Drakelands, Drakelands






Devon County Council new website

This is the Interactive website which is easily navigated to find exactly what you need speedily.


You can report and plot the potholes on the map, find planning applications, pay or appeal a parking ticket, etc etc .. on this extremely good website. Its quicker than getting through on the phone or waiting for an email reply.

Go to:


http://www.devon.gov.uk



USE YOUR DEVICES TO CONTACT THE COUNCIL (South Ham and West Devon Councils).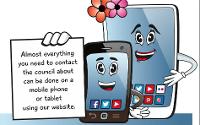 South Hams and West Devon Councils remind us all that nearly everything you need to contact the council about can be done on a mobile phone or tablet using their websites.
"Our customers can now apply for benefits, pay their council tax, even send us pictures of their key documents as evidence, all with their phones. They no longer need to scan documents in or bring them to us at the council. Just take a picture and load them onto the forms, just like they would upload a picture to Facebook or Instagram."
"We want to make it as simple as possible for our customers to be able to send us information from the devices that they use everyday.
they do not need to phone or visit the council, just go on the internet on their mobile phones or tablets and use the council's websites."
So next time you want to contact the council, don't call the council, use your phone or tablet! It will be like having the council in your pocket.
MOORLAND HOTEL -


Please Note : there is a Recycling Bottle Bank at the Moorland Hotel.
It's behind the big brown fence just right of the front door. The Community are very welcome to use it.

Access is available during the day but they would ask you not to use the bottle bank at night. It is noisy, and there are two big dogs roaming that area at night!

So feel free to come and use it to recycle all your glass bottles.
Did you know that Avon products can be order through Tish at the Hotel.
POST OFFICE - is on Monday and Thursday mornings in the lounge of the Moorland Hotel.

You can pay bills, withdraw cash, and use all the P.O facilities.

Restaurant: call to book 01752 839228

Neighbourhood Watch - Wotter, Shaugh Prior and Lee Moor :

Report an injured or dead animal
Dartmoor Livestock Protection Society: 07873 587561



SHAUGH PRIOR PARISH POLICE CRIME REPORT

AUGUST 2019


Police Report for AUGUST

NIL CRIMES
REPORTED FOR AUGUST, which must be a record considering it is peak season.
One Log of note:

A Rave held at Blackaton Cross. Police were advised the morning after and attended the site.
No problems, small amount of vehicles and all left respectfully, no noise nuisance due to location.

No other matters arising at this time, except the barking situation from Bughill Farm continues.

Unfortunately it seems there will not be a replacement for PC Tamsyn Dingley, and as such the Neighbourhood Team will cover as a whole.

"It is good news that the Country will be recruiting 20000 more Officers, this should mean an extra 400 for Devon and Cornwall in the future. At this time though we are still stretched to beyond the thin blue line. It has been a frustrating time for all, Officer back up can be as far as an hour away at times so we are hoping with more Officers we can start to make a small difference to the rural areas which at times feel neglected".
( Direct dial: 07525617850
Email: diana.summers@devonandcornwall.pnn.police.co.uk / Ivybridge@devonandcornwall.pnn.police.ukPCSO 30318 Diana Summers
Fraud Advice
· Requests to move money: A genuine bank or organisation will never contact you out of the blue to ask for your PIN, full password or to move money to another account. Only give out your personal or financial details to use a service that you have given your consent to, that you trust and that you are expecting to be contacted by.
· Clicking on links/files: Don't be tricked into giving a fraudster access to your personal or financial details. Never automatically click on a link in an unexpected email or text Personal information:
· Always question uninvited approaches in case it's a scam. Instead, contact the company directly using a known email or phone number.